It's been a busy couple of weeks in regards to two wheeled forms of transportation here in Santa Fe. The weather is finally getting warm and even though we've had unexpected rain (YEAH!) and the mountains are still getting snow, it's back to the bike.
I rode these two all winter long. It's just warmer and easier and faster than the bicycle.
Last week the Santa Fe Century ride took place here in Santa Fe. This year was the first to join this event with a new festival called "Bike and Brew" that was sponsored by Outside Magazine, headquartered in Santa Fe. The event took place in the Railyard and had a variety of rides, eating and drinking going on all weekend long. Family rides, rides to places to eat, Mountain biking and of course the half century, century or twenty mile ride. Hannah and rode some classic bikes down to the event to see what there was to see. At one point we got caught up in a group ride. These folks were decked out in their best spandex and carbon fiber farkles. As we pedaled uphill and Hannah overtook a group of them on her single speed J.C. Higgins Jetliner, one of them asked if her "rocket" worked. "Who needs carbon fiber when you can have a solid steel skirt guard!" Then two of them got caught up in each other while trying to get their shoes to unclip from their fancy pedals. Ahhh, cyclists. It takes all kinds.
We had some folks from Warmshowers.org drive in from Fort Collins, CO and stay with us for the event. They were lovely guests and we got to return some hospitality after partaking of so many hosts during our tour last year.
Katie (my sister) rode the half century with a friend while Tom and Rita both completed the full century! The weather cooperated nicely and everyone had a good ride. I spent some time lounging at the finish line and longing for a lighter bike and a better ankle. Next year we're doing the 100 miler!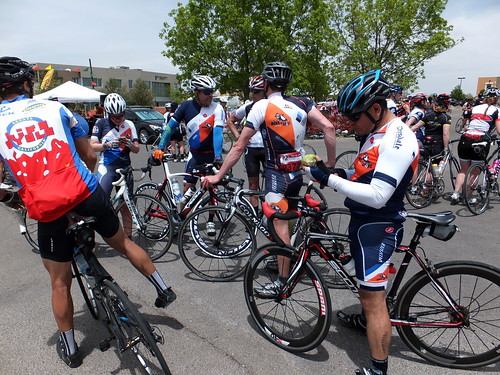 So we hope you'll come to Santa Fe and join in on a ride next year. Details on rides can be found here Santa Fe Century. There is a twenty mile ride for those who don't feel up to anything longer and the Bike and Brew Festival has a lot of other options including tasting craft beers, eating delicious food, oh yeah! AND riding bikes in there someplace too.